Only Beautytek tightens faces, lifts breasts up to 5cm naturally and provides a highly effective fat reduction treatment for all common problems which until now have only been able to be treated by cosmetic surgery and without the need for any surgery. It has the added advantage of general stress reduction without any of the dangers or side effects of surgery with visible results after the first treatment
Beautytek Web, based in Beverly Hills now supplies apparatus and sends trainers to educate senior beauticians in exclusively licensed and renowned spas and wellness centres world wide. If you are seeking the latest innovations without surgery we can make the same revolutionary non surgical body Sculpting technology available to your top spa or wellness centre at a price that means that it is no longer necessary for you to be one of the Hollywood stars or supermodels who regularly use beautytek for their body sculpting and body shaping. Beautytek web licenses exclusive spas, salons and resorts and we will be happy to put you in contact with the exclusively licensed salon for your area with a guarantee that they are constantly monitored and trained by a world renowned corporation to be the best or simply ask them to contact us to apply.
Our revolutionary Beauty sculpting treatments are suitable for all body types, ages and areas, for which the client desires a visible improvement, even after one treatment. The combination of the best quality apparatus, Software based on over 50,000 treatments and specialist training. Do not be fooled by lesser quality simple cavitation apparatus.
Beautytek treatment equipment constantly measures and analyzes the energetic potential of the treated area. The dispersion of energy is not limited to the skin surface but unfolds its full treatment power by stimulating the self-repair mechanisms of the body. The treatment area is visually mapped, convincingly displayed and demonstrated to the client before and after the treatment
We know that some of the most beautiful women in the world are in countries which need a visa for the the USA and that this inconvenience means that they can't easily come to our offices. For this reason we send our International trainers and apparatus and arrange treatments at only the best and top salons and spas in their country.
Treatment is bio-cybernetic, which brings about an energetic balance in the treated area - without surgery or any pain. Our apparatus detects energetic deficiencies in the body and then treats them with pinpoint accuracy using complex computer algorithms developed from the experiences of Chinese treatment methods transferred to modern technology.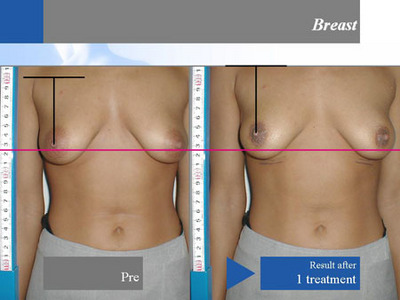 AFTER ONLY ONE OF 12 TREATMENTS
Our " made in Germany" computerised apparatus provides gentle, non-invasive and completely pain-free body sculpting as opposed to dangerous traditional implants and surgery. and has been the subject of numerous Radio, TV and magazine articles across the globe. It is heralded as the safest 21st century body sculpting system adopted by both male and female celebrities The computer optimizes the parameters which are relevant for the treatment, prevents any over- or underdosage.and controls their effect in a bio-cybernetic closed loop within a fraction of a second by its measurement on the body. Do not be fooled into accepting cheaper and less effective systems.
To contact us and to learn more about where you can get treatments in your city or if you would like to work with us and offer our treatments in your city or simply learn more about us please complete the contact form and we will contact you.
By bringing about an energetic balance in the treated area, without surgery or any painful procedure, the client relaxes on a treatment table while the qualified and highly trained specialist moves a probe over each area to be treated. A specific and proprietary to us electrolytic gel helps stimulate and accelerate the self-repairing power of the body. The active principles stimulate, tighten and cleanse the tissue of the determined areas - exactly meeting the client´s needs - with bio-equivalent energy. The client feels only a pleasant massage yet after even the first treatment with our combination of apparatus, training, software, gels and treatment heads notices an immediate difference.